Racing
The racing season runs from early April to late October. Races are held each Sunday, usually at 1PM and 3PM. Most races have a single start for all classes (pursuit races being the major exception).
Races are run following the principles of RYA Race Management. The courses normally used for races at Loch Ard are available online (PDF format). For pursuit races, the start times are also available online (PDF format).
Races are counted in around a dozen series during the year. There are special events such as the annual regatta, the marathon race, and the races for ladies, novices, juniors and cadets. Average lap times are computed and adjusted by Portsmouth Yardstick Handicap for each boat class. Some races are sailed on personal handicaps. Trophies are awarded at the annual prize-giving in December.
Events
Note that sailing activities are subject to coronavirus lockdown rules.
The events programme is as follows, and is also available as PDF.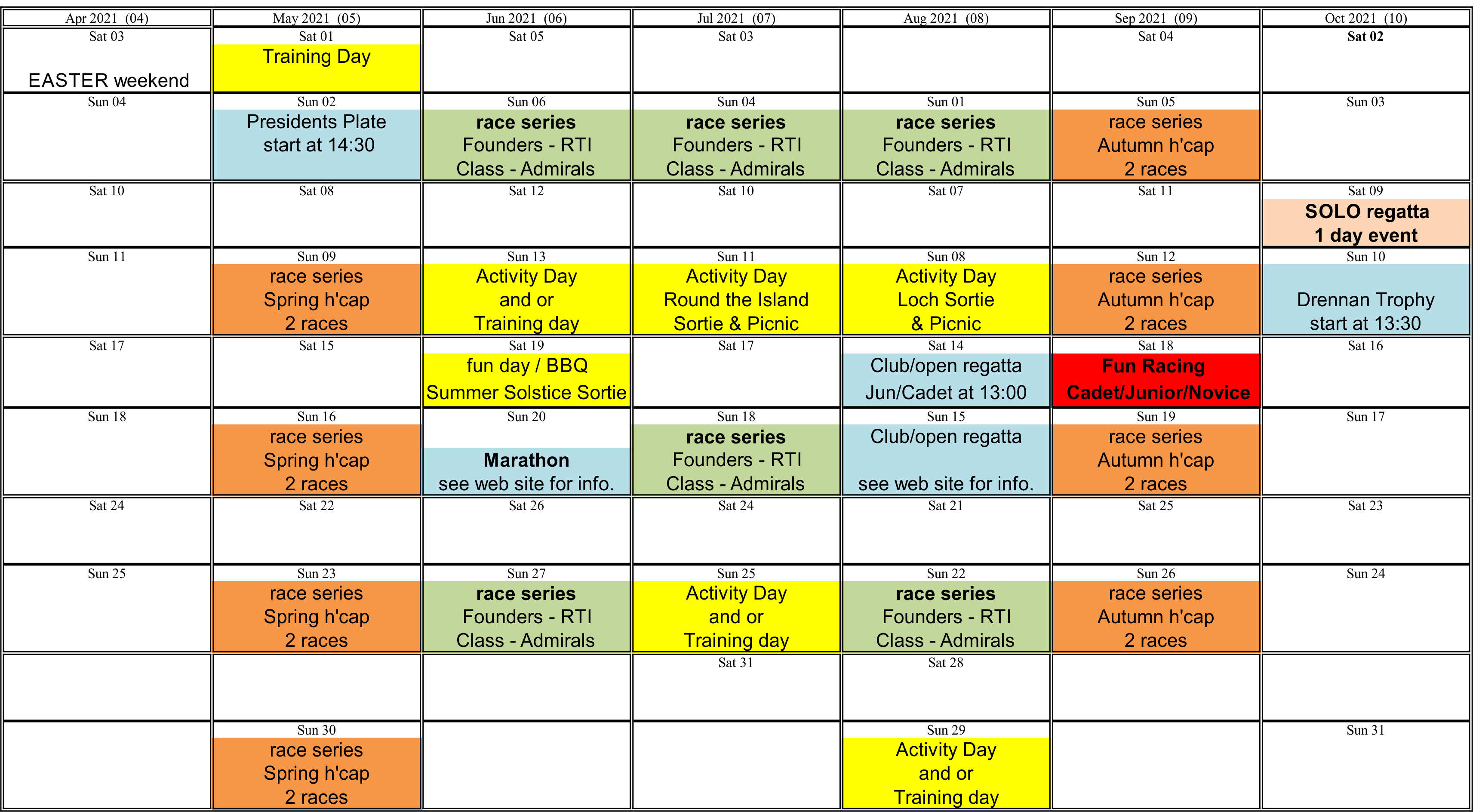 Apart from regular racing, the following special events will take place:
| Date | Event |
| --- | --- |
| 2nd May (14:30) | Opening Day Race (President's Plate) |
| 19th June | Summer Solstice Sortie and Fun Day |
| 20th June | Marathon Race |
| 11th July | Round The Island Sortie and Picnic |
| 8th August | Loch Sortie and Picnic |
| 14th/15th August | Club Regatta |
| 9th October | Solo Regatta |
| 10th October | Drennan Trophy |
Dinghy Classes
The club supports a large number of dinghy classes. See the class pictures for photographs of some of these. The classes most commonly raced at the club are:
Please note that the club is permitted to sail only dinghies (though smaller keelboats are acceptable). Club members may not use yachts, multi-hulls, jet-skis or power boats on the loch.
Training