(latest items appear first)
Club Closed for Winter, 11th October 2021
The club is now closed for the winter, the restart date in April/May 2022 depending on coronavirus restrictions.
Drennan Trophy, 10th October 2021
The final race of the season was sailed in changeable conditions, but with sufficient wind for a good circuit of the loch. The top placings were: 1st Robert and Sue Signer (Flying Fifteen), 2nd Rob and Ann-Margaret Cordingley (Flying Fifteen) and 3rd Oliver Wesolowski (Laser).
Solo Travellers Event, 9th October 2021
The club was pleased to receive a fleet of visiting Solos for a travellers event on 9th October. This was sailed in misty conditions with light and variable winds. Three races were sailed back-to-back, with the wind dying towards the end of race 3. (Click to see a larger version of the photographs.)
| | |
| --- | --- |
| | |
| Windward Mark for Race 1 | Some of The Competitors |
Overall results for the three races were as follows:
| Place | Sail No | Helm | Club | Points | Race 1 | Race 2 | Race 3 |
| --- | --- | --- | --- | --- | --- | --- | --- |
| 1 | 5408 | Tony King | Derwent Reservoir | 2 | 1 | 1 | 4 |
| 2 | 5618 | Jon Gay | Lochaber YC | 5 | 10 | 4 | 1 |
| 3 | 5602 | Keith Milroy | STML SC | 5 | 3 | 2 | 14 (DNF) |
| 4 | 4856 | Robert Signer | Loch Ard SC | 8 | 6 | 9 | 2 |
| 5 | 5889 | David Parkin | AS YC | 8 | 2 | 6 | 14 (DNF) |
| 6 | 5841 | Ross Watson | Loch Tummel | 10 | 9 | 7 | 3 |
| 7 | 4975 | Charlie Brecknell | - | 10 | 7 | 3 | 14 (DNF) |
| 8 | 4969 | Gary Macfarlane | Bardowie | 13 | 8 | 8 | 5 |
| 9 | 5496 | Patrick Burns | Dalgety Bay | 15 | 4 | 11 | 14 (DNF) |
| 10 | 561 | Amanda Henderson | Lochaber YC | 16 | 11 | 5 | 14 (DNF) |
| 11 | 4766 | David White | Bardowie | 17 | 5 | 12 | 14 (DNF) |
| 12 | 5447 | Nigel Ford | St Andrews SC | 22 | 12 | 10 | 14 (DNF) |
| 13 | 4297 | Douglas Hay | Bardowie | 27 | 13 | 14 (DNS) | 14 (DNS) |
Summer Solstice Sortie, 19th June 2021
Despite a rather un-June like day, a good number of club members and friends enjoyed the annual barbecue and summer solstice sortie on 19th June. Culinary skills were much in evidence. Despite a variable wind, a number of boats were able to sail to the bottom of the loch and back, with younger members having a great time on paddle boards and kayaks. Some spent more time in the loch than on it! (Click to see a larger version of the photographs.)
| | |
| --- | --- |
| | |
| Pre-Sortie Barbecue | Setting Off for The Sortie |
Spring Handicap Series, 30th May 2021
30th May saw the last set of races in the Spring Handicap series. Members have enjoyed some excellent sailing, with the last race providing ideal conditions: a good easterly force 3 wind, gusts giving rise to white horses, and full sunshine. The results of the series are: 1st Ken Turner (Solo), 2nd Nigel Orr (Heron), 3rd Will Barret (Flying Fifteen). (Click to see a larger version of the photograph.)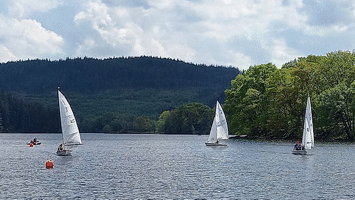 Last Race of Series
Club Reopened, 2nd May 2021
The club reopened on 2nd May for social-distanced sailing activities. There was a race for the President's Plate, with Robert and Sue Signer taking the Honours in a Flying Fifteen. (Click to see a larger version of the photographs.)
| | |
| --- | --- |
| | |
| Group at Club House | Winning Flying Fifteen |